Fyb00000549 Floating Seal, Group Seal Fits John Deere 225clc 790e 200lc 240dlc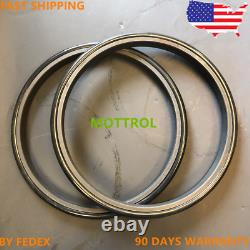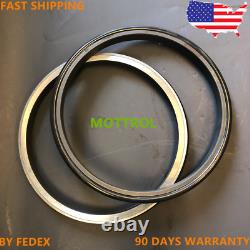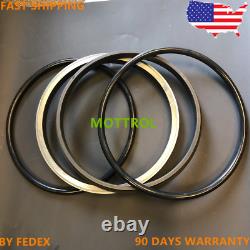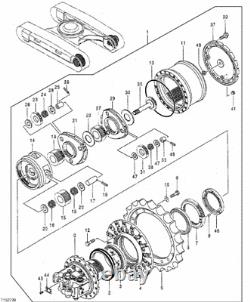 FYB00000549 FLOATING SEAL, GROUP SEAL FITS JOHN DEERE 225CLC 790E 200LC 240DLC. FITS OTHER EXCAVATOR 160DLC 160GLC 180GLC 200CLC 200DLC 210G 225DLC 230CLC 230LC 230LCR 240DLC 245GLC 250GLC 790ELC. OTHER AVAILABLE PARTS: O-RING BOX, CYLINDER BUSHING, CYLINDER PISTON RING, ARM CYLINDER SEAL KIT, BOOM CYLINDER SEAL KIT, BUCKET CYLINDER SEAL KIT, CENTER JOINT SEAL KIT, ADJ CYLINDER SEAL KIT, CONTROL VALVE SEAL KIT, PUMP SEAL KIT, TRAVEL MOTOR SEAL KIT, SWING MOTOR SEAL KIT, OIL SEAL, FLOATING SEAL, GEAR PUMP SEAL KIT, COUPLING FOR PUMP, PILOT VALVE SEAL KIT, PILOT VALVE PUSHER, FOOTWORK PUSHER, HYDRAULIC CYLINDER ASSY, HYDRAULIC CYLINDER, HYDRAULIC CYLINDER ROD, CYLINDER HEAD, CYLINDER PISTON, PUMP GASKET. 9149087 [1] Motor NLA; ORDER 9149087EX.
9149087EX [1] Hydraulic Motor Reman REMAN FOR 9149087; SUB FOR AT214460 OR AT183689. 9148910 [1] Gear Case PROPEL GEARBOX TAGGED HMGF38. FYB00000549 [1] Seal SUB FOR AT154697 OR 4634693. AT130941 [2] Tapered Roller Bearing.
1013983 [1] Drum SUB FOR AT154627. AT311805 [1] Drive Sprocket SUB FOR AT215477, TH109726 OR 1010203. 19M8002 [16] Cap Screw M20 X 55 SUB FOR J932055. 3047448 [1] Hub SUB FOR AT154662. 4246783 [1] Pin SUB FOR AT154708. 12M7070 [16] Lock Washer 20 MM.
1014493 [1] Ring Gear SUB FOR AT154634. 19M7369 [20] Cap Screw M16 X 60. 4246792 [1] O-Ring SUB FOR AT154711. 1014491 [1] Planet Pinion Carrier SUB FOR AT154632.
3052346 [3] Gear AT318028, NLA. 4172394 [6] Needle Bearing SUB FOR AT154701. 4252442 [3] Pin SUB FOR AT154721. 34M7133 [3] Spring Pin 8 X 70 MM. 3049870 [1] Sun Gear SUB FOR AT154668. 4271698 [6] Shim SUB FOR AT154777. 1014492 [1] Planet Pinion Carrier SUB FOR AT154633.
4246785 [1] Washer SUB FOR AT154710. 3052345 [3] Gear SUB FOR AT154685.
4354271 [3] Needle Bearing SUB FOR AT214453. 4252441 [3] Spacer SUB FOR AT154720. 34M7119 [3] Spring Pin 5 X 65 MM.
3049872 [1] Sun Gear SUB FOR AT154669. 4269295 [6] Shim SUB FOR AT154773. 1014490 [1] Planet Pinion Carrier SUB FOR AT154631.
4401293 [1] Spacer SUB FOR TH111249. 3049873 [3] Gear SUB FOR AT154670. 4210853 [3] Spacer SUB FOR AT154702. 2028764 [1] Shaft SUB FOR AT154653. 2028763 [1] Cover SUB FOR AT154652. 4387383 [3] Needle Bearing SUB FOR AT214452. 19M8011 [16] Cap Screw M12 X 30. 12M7058 [16] Lock Washer 12 MM SUB FOR 12M7067. 94-2013 [3] Fitting Plug SUB FOR TH100648. 37H99 [2] Screw 0.100" X 1/4". 3057125 [1] Ring SUB FOR AT154694. 4192910 [6] Plate SUB FOR TH108847. 4173093 [3] Spring Pin SUB FOR TH108841. 4478346 [1] Pin SUB FOR 4285323; SUB FOR AT154798; STOPPER. MOTTROL USA EXCAVATOR PARTS DEPOT YOUR BEST SOURCE FOR OEM QUALITY EXCAVATOR PARTS. For the parts described with both part number and application machine model or engine model, please make sure to order according to the part number, the application machine model or engine model is just for reference. This item is in the category "Business & Industrial\Heavy Equipment, Parts & Attachments\Heavy Equipment Parts & Accessories\Seals & O-Rings".
The seller is "mottrolusa" and is located in this country: US. This item can be shipped to United States.
Compatible Equipment Make: Universal
Model Year: Unknown
Part Type: FLOATING SEAL
MPN: 4634693 AT154697 FYB00000549
Brand: Aftermarket
Compatible Equipment Type: Binding Machine, Compactor, Crawler Tractor, Drill Press, Backhoe Loader, Boom Lift, Combine, Crane, Crawler Dozer, Directional Drill, Excavator

---