Dual Counter Balance Valve, 3/4 BSPP, Open Centre 60-350 bar 120lpm Ratio 6.21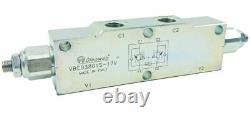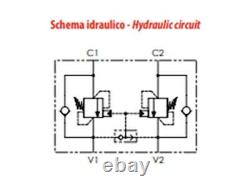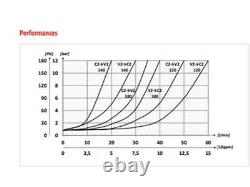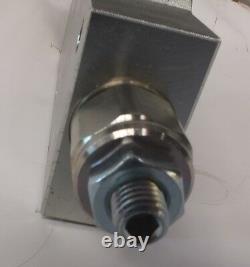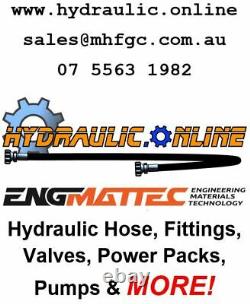 Sign up to our newsletter to get all the latest offers Sign Up. HYDRAULIC PUMPS & POWER PACKS. POWER PACKS HIGH & LOW FLOW.
PISTON PUMPS FOR OIL & WATER. ADAPTORS JIC BSP ORFS ETC. FIELD FIT HYD HOSE FITTINGS.
QUICK COUPLERS HYDRAULIC & PW. GAUGES -1 TO +600 BAR. PRESSURE WASH HOSE & MACHINES. SPOOL VALVES MONOBLOCK 1 TO 6. CYLINDERS RAMS BARRELS & RODS. SECTIONAL VALVES 80 & 120 LPM. AIR BRAKE FITTINGS & HOSE. Counter Balance Valve Dual, 3/4 BSPP, Open Centre 60-350 bar 120lpm Ratio 6.2.1.
This sale is for a Dual Counter Balance Load Hold valve with open centre. These are widely used for stabiliser legs, cranes & any other hydraulic use where it is essential a function does not drop if hydraulic power is lost ie. These are a mandatory safety item for many hydraulic applications. Adding a counterbalance valve controls motion and provides protection against hose or tube failure. In this circuit, moving the directional control valve to the left causes the cylinder to extend, raising the load with flow going through the check valve portion of the counterbalance valve.
When the directional control valve is centered, the counterbalance valve will prevent leakage and lock the load in position. Moving the directional control valve to the right sends flow/pressure to the rod end of the cylinder. This pressure also acts to pilot open the counterbalance valve and allows the load to be lowered.
Counterbalance valves will positively hold a pressurized load and will control the motion of the load based on application of a pressure signal to the pilot port. Single inline pilot check valves are also available. This valve controls a moving load in BOTH directions, preventing it from moving ahead of the pump & locks the load in any position on C1 or C2. You can adjust the counterbalance valves with an Allen key to speed or slow the cylinder travel to equal out two cylinder speeds. 1 full turn equals aprox. These are quality items made in Italy. Need another type or different sized valve?
Please send us a message for any enquiries or extra fittings or quotes. Ratio = 6.2:1. Size = 3/4 Full Bore.
Ports = 2 x 3/4 BSPP Female. Body = Zinc Plated Steel. Some additional guidelines for counterbalance valve applications.
Specify the counterbalance valve relief setting high enough to stop any motion (flow) at the maximum expected actuator pressure. Generally it is recommended to use a setting of 1.3 multiplied by the maximum load pressure. Use low pilot ratios (3:1 and 4.5:1) for applications where loads may vary widely.
Low pilot ratios require higher pilot pressure and are less efficient but provide stable, precise control for varying loads. · Use high pilot ratios (8:1 and 10:1) for applications where loads are relatively constant.
High pilot ratio valves require lower pilot pressure, have faster response, and are more efficient, but lack stability and precision in response to varying loads. Do not oversize counterbalance valves. There is no pressure drop operating limit for counterbalance valves and in fact some pressure drop is required to maintain valve operation.
Locate counterbalance valves at or near the actuator to provide maximum load holding protection in the event of hydraulic line failure. Do not use counterbalance valves with closed-center directional control valves. Pressure trapped between the directional control valve and the actuator can pilot the counterbalance valve open and result in undesired load motion. Do not use counterbalance valves with tandem-center directional control valves. IMPROPER SELECTION, INSTALLATION, IMPLEMENTATION AND/OR OPERATION BY ANYONE OTHER THAN PERSONS WITH APPROPRIATE TECHNICAL AND MECHANICAL TRAINING CAN RESULT IN DAMAGE TO EQUIPMENT OR PROPERTY, SERIOUS PERSONAL INJURY OR DEATH. PROPER PRECAUTIONS AND SAFETY PROCEDURES SHOULD BE IMPLEMENTED PRIOR TO INSTALLATION AND OPERATION OF EQUIPMENT. VIEW OUR CUSTOMERS FEEDBACK VIEW MORE FEEDBACK.
HYDRAULIC POPPET COUPLER DUST PLUGS & CAPS 1/4", 3/8", 1/2", 3/4" & 1. FLAT FACE HYDRAULIC COUPLERS 1/2 BSPP MALE AND FEMALE PAIRS BOBCAT, YANMAR. Hydraulic Oil Flow Control 1/2 BSP 50 Lpm, 400 BAR, 6000Psi ITALIAN MADE. OIL TANK SIGHT GAUGE VARIOUS SIZES 3/8" to 1-1/2". Hydraulic Oil Flow Control Throttle Shutoff Valve 3/8 BSP Ports 400Bar 6000 PSI.
HYDRAULIC RE USABLE HOSETAIL 1/4 Straight Tail x 9/16 JIC Female. If there is any additional documentation that must be included for export to your location please advise when placing order. This item is in the category "Industrial\Heavy Machinery, Parts & Attachments\Heavy Machinery Parts & Accessories\Hydraulics".
online" and is located in this country: AU. This item can be shipped to Australia, all countries in Europe, all countries in continental Asia, United States, New Zealand, Canada.
Part Type: Hydraulic Valve
Model: 3/4\
Brand: OLEOWEB
Compatible Equipment Make: Universal
Part Number: VBCD
Manufacturer: OLEOWEB
Compatible Equipment Type: Backhoe Loader, Boom Lift, Compactor & Asphalt Roller, Crane, Excavator, Scissor Lift, Telehandler, Vertical Mast Lift

---