Caterpillar Cat 2244536 Genuine OEM Pressure Sensor 3-Pin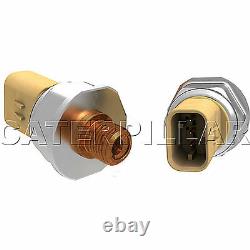 Caterpillar Cat 2244536 Genuine OEM Pressure Sensor 3-Pin. 3-pin Heavy Duty Pressure Sensor. Description: Cat® Pressure Sensors gather the necessary data to make certain that your equipment is operating at an optimal level.
Attributes: Cat® Pressure Sensors are designed to work in unison with the rest of your Cat® components to ensure maximum potential of your equipment. Recommended Application: Cat sensors can operate in heavy-duty applications such as severe vibration, shock, extreme operating temperature ranges, thermal cycle, thermal shock, humidity, corrosion and excessive dust.
325DFMLLA, 324DFMLL, 325DFMLL, 330DFMLL, 330DFMLLA. AP-1000D, AP-1055D, AP-755, BG-2455D, BG-260D.
521,2290, TK752,2390, TK722, TK711,551,511,541,2491, TK721,532,2590,522, TK732,2391,552. 140MAWD, 140K2,140M, 12HNA, 140G, 12K, 140K, 120K, 135HNA, 160K, 160M, 160MAWD, 120HNA. 325DMH, 336D, 324DL, 322C, 330CL, 325DL, 330DL, 330COEM, 329DL, 330DLOEM, 330D, 330DLN, 336DLN, 322CLN, 330C, 325C, 330CLN, 324DLNOEM, 336DLOEM, 336DL, 336DHVGOEM, 329D, 325CL, 325DLOEM, 325CMH, 325D, 330DMH, 330CMH, 322CL, 324D, 325CLN, 328DLCR, 329DLN, 325COEM, 336DOEM, 325CCR, 324DLN, 329DLOEM, 325DLN. D6RIIIXL, D6TXWVP, D6RIILGP, D6NXL, D6RIIXL, D6T, D6RIIIXLVP, D6RXL, D6RII, D6R, D6RIIIXWVP, D6NLGP, D5NXL, D6RIIIXW, D7RXR, D6TXL, D5NLGP, D6RIII, D7RLGP, D6TLGPVP, D6RIIILGPVP, D6RLGP, D7R, D6RIIXW, D6TXLVP, D6TXW, D6RIIILGP, D6R2LGP, D6R2, D6TLGP, D6R2XL. 324DFMGF, 330CFMHW, 325CFMST, 324DFMLGP, 322CFMLGP, 325CFMHW, 322CFMHW, 322CFMST, 325DFMGF, 330DFMGF, 330CFMST.
MT745, MTC745, MT735, MTC755, MT755, MTC765, MTC735, MT765. 924H, 928H, 950H, 962GII, 962H, 930H, IT28G, 938GII, 966F, 924GZ, 924G, 966FII, 950G, 950GII, 928HZ, 930G, IT62H, 962G, 924HZ, 928GZ, IT62G, IT38G. If your address is outside of this area eg. We are committed to making sure that you are pleased in every way with your purchasing experience with Transport Diesel.
We want you to be 100% satisfied with your order. If you are not satisfied, please notify us before leaving feedback. We will answer all questions as quickly as we can. Please be aware that there may be additional costs that you may incur to obtain your parts.
It is your duty to ensure that you meet these requirements, so please take a moment before purchasing our item(s) and make sure that you are within these boundaries. All items for sale qualify for return with said requirements unless otherwise noted. It is your responsibility to ensure that you order the correct part, so please work with us if you see anything that looks incorrect. As we are human, our listings are not always perfect, but we will always work with you and be as fair as we are able to. We take pride in having the best customer service!
Thank you for your business! The item "Caterpillar Cat 2244536 Genuine OEM Pressure Sensor 3-Pin" is in sale since Wednesday, June 24, 2020. This item is in the category "Business & Industrial\Heavy Equipment, Parts & Attachments\Heavy Equipment Parts & Accessories\Electronics".
The seller is "transportdiesel" and is located in Logan, Utah. This item can be shipped to United States, Canada.
Part Type: Sensors
MPN: 2244536
Brand: Caterpillar
UPC: NA

---