200 key set with ring for CAT Komatsu Yamaha Bomag 5P8500 787 D250 AR51481 H800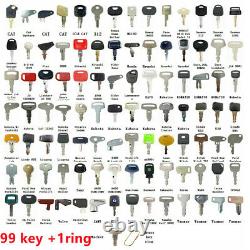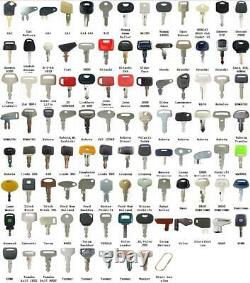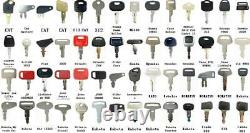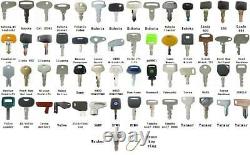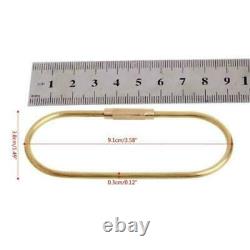 200pk key with ring for Yamaha Deutz Fendt Bomag 5P8500 NG100. 1-Caterpillar Ignition (5P8500): fits Cat Ignitions from 1970's to date, cab doors side panels padlock Dozers Backhoes Compactors Articulated Trucks Excavators Motor Graders Skid Steers Tracked Tractors Wheel Dozers Wheel Loaders Log Skidders ASV Skid Steer Tigercat & others. 2-Caterpillar - CAT(8398):Master Disconnect Key, aftermarket replacement for part 8H-5306.
3-Caterpillar - CAT(8H-5306):Fits vintage Caterpillar equipment, Aftermarket replacement for CAT part 8H-5306. 5-Caterpillar Old Models ignition Key. 6-312 key (312) fits Champion, Crown, some Case, Ford, Cat and Linkbelt Models.
7-Bomag & Hamm Roller Compaction Equipment Ignition Keys 14707. 8-NG 100 (NG100): fits Grove Manlift, Terex old Boom Lift, some Vermeer, Cushman, Legend, Bart Mill, Huber, Raygo, Advance Lift, Arrow Lift, Terex Telehandler, Lull older Telehandler and more. 9-Deutz Tractor (14685) Deutz Bomag 122 142 172 & older Rammax Roller Compactor, Wacker Compactor and John Deere Forklift. 10-Case-Bobcat (D250):fits Case Equipment, Bobcat Skid Steers, International Harvester, Ingersoll Rand, Ditch Witch (some), Grove, Vermeer 752, Tenant, Timberjack, Broce Brooms, some Terex Forklifts and some JLG. 11-BOBCAT SKID STEER WACKER GEHL HIGH REACH LIFTS Also Cub Cadet 104 124 105 125 106 126 147 128 129 149 169.
12-Daewoo - Doosan(212):Daewoo & Doosan Forklift and Equipment Ignition Key, Aftermarket replacement for part D554212. 13-Doosan Daewoo Excavator Bobcat E800 Heavy Equipment Key K1009605B #F900.
14- Daewoo D 300 Excavator (D300) fits Daewoo D300 Excavator. 15-Daewoo - Doosan(D100):Fits Daewoo, Doosan and several models of Terex excavators, also Bobcat E series mini excavators.
16-EZ GO (1919): fits EZ GO Golf and Utility Carts For E-Z-GO (1982-Up) Gas Electric Golf Cart Keys # 1919. 17-TX10998 Ignition Switch for Long and Fiat Tractors 1000 23 260 350 2360. 18-for Genie Scissor Lifts TOWED BOOM LIFTS Personal Lifts.
19-John Deere-Hitachi (H800): fits John Deere and Hitachi Excavators, Case Dozers Models 1650 & 1850K and some Fiat equipment. 20-New Holland Hitachi ZAX EX60 EX70 EX120 EX200 Excavator #H800. 21-John Deere-Hitachi (H800): fits John Deere and Hitachi Excavators, Case Dozers Models 1650 & 1850K and some Fiat equipment. 22-Honda (35111-880-013):Fits: EB, EM, EU, EX and EXW series generators and G, GD and GX series small engines. 23-Hyundai(HD62):Hyundai Excavator (HD62) Hyndai Nagano Thomas Sunward Excavatosr 70 & 90 Bobcat Mini Excavator 316, Daewoo S-5. Fits Bobcat 316 Mini-Excavator and Hyundai, Thomas, Nagano and Sunward excavators. 24-Hyundai Excavator Dozer Skidsteer Hitachi HD62. 25-Hyundai Excavator Heavy Equipment Ignition Key - New Style 21Q4-00090. 26-Construction Key fit for Case, Deutz, Fendt No. 27-Case-Linkbelt JCB SumitomoExcavator: (S450) Case & Linkbelt Excavators, older JCB Excavators, some New Holland. 28-For JLG 2860030 Keys - 9901 key E2/E600/33RTS Scissor Boom. 29-JLG(9901):Fits JLG and Upright Lifts - Scissor Lifts. 30-John Deere (JDS):Fits Skid Steer. Aftermarket Replacement for Deere OEM part # T209428. 31-John Deere (606):Fits John Deere Crawler Dozers and Tracked Loaders models 605C, 655C, 755C, 950C and 1050C. 32-John Deere Commercial (JD) fits John Deere dozers, backhoes, etc.
33-John Deere Tractor Ignition Keys OEM RE183935 RE43492 RE71557. 34-John Deere (JDG):Fits John Deere Gator, Bobcat, Gehl, Multiquip Heavy Equipment Ignition Key replaces AM131841.
35-Old Case (83353): fits older Case Dozers (#R30074), John Deere Models 1020,1520, 2020, 2030 & others, Massey Ferguson Models 135, 150, 165, 175, 180, 230, 245, 255, 265, 275, 285, 302, 304, 1080, 1085, 1105, 1150, 1155, 1500, 1800, 2135, 2200, 2500, 3165, Cole Hersee #83353 & Industrial Tractor Models 20, 30, 40, 50A, & 50C, Terramite Backhoe Models T5C, T6, T9. 36-John Deere (GY20680): 102 115 125 135 145 155C 190C L100 L108 L110 L111 L120 L130 G100 G110 Cub Cadet Scotts TractorFits many John Deere Mowers and Lawn Tractors.
40-Komatsu Battery Isolator Disconnect Key K2C166. 41-Komatsu Ignition (787): fits Komatsu 787, 646, 648 etc.
Komatsu Forklift, Kalmar, Dressta, Sakai Forklift, Komatsu part #TR2611434. 44-Kubota M Series (S8077) fits Kubota M Series Tractors.
45-Caterpillar & Mitsubishi(12343):Fits Mitsubishi / CAT Caterpillar Forklift and some Kumiai Tractors and some Mitsubishi Dozers. Mitsubishi 123243 fits Forklifts Mitsubishi BD2 Series Dozers, International, older Kubota M Series Tractors, Cat Forklifts, Kumiai, Mitsubishi models 370 & 372, Beaver. 51-Kubota(53630): loader and mini excavator models R420 R520 K008 KX41 Kubota Thomas Skid Steer (Gasoline) Bandit Woodchipper.
52-Kubota(63720):Fits Kubota M Series Tractor. 53-Kubota (459A):fits many Kubota Skid steers, tracked loaders, excavators and backhoes. 55-Ignition Key 530 - Stapler - Forklift - Ant - Still - Key. 56-linde KEY 0009730419 linde 801 Forklift Lift Truck.
57-Jungheinrich - Ant - BT Jungheinrich forklifts, subway trucks #701. 58-For Linde Forklift - E16 - L12 KEY 802.
59-For Liugong Loader 30E 40B 50C 50CN 855 856. 60-Liugong Excavator and Heavy Equipment Ignition Keys #34B0557. 62-Lucas(T250):Fits Lucas, Ford, Farmtrac, Massey Ferguson, Vermeer, Bosch & JCB Tractor.
63-Kobelco(2498):Fits several models of LK series wheeled loaders, most Airman PDS series portable air compressors. "166" Caterpillar, Yale, and Clark Forklifts, Gradall (166), Skytrak and Shuttleshift, Daewoo Skid Steers 430, 440, 450, etc.
Mustang Skid steers, Ingersoll Rand Rollers and Komatsu Forklifts. 75-SANY:Fits many models of Sany equipment. 76-Case-Linkbelt (S450):Case & Linkbelt Excavators, older JCB Excavators, some New Holland.
78-Fits Sumitomo excavators and Case and Link-Belt excavators, pavers and heavy equipment. 80-Takeuchi (H806):fits Takeuchi, Gehl, Mustang Mini Excavator, Gray market Hitachi and some New Holland equipment. Aftermarket replacement for part 180485. 81-BOSCH BOMAG Terex Generation 7 Articulated Dump Truck ADT Ignition Key 14644. 82-Terex Lift (WA05): Various Models.
83-Terex-Fermec Backhoe (81404) Terex Backhoe 760 & 860, TERX 760-860. Fits early JCB Mini Diggers produced in the late 90'S and fits some Fermec Mini Excavators, and some Terex Excavators.
97-Yanmar Mini Excavator & Equipment (301) fits Yanmar Mini excavator, Yanmar Ignition 301, some Takeuchi, John Deere Industrial Equipment with model #4019TF motor, JD part #RG60472. 98-Yanmar Mini Excavator & Equipment (301) fits Yanmar Mini excavator, Yanmar Ignition 301, some Takeuchi, John Deere Industrial Equipment with model #4019TF motor, JD part #RG60472. 99-Wacker Neuson Roller and Heavy Equipment Ignition Key 160431. 100% Brand New & High Quality. Size:As Picture 2SET 100PC KEY =200PC keys.
Package Include: 200 PC key & 2 pc Brass key ring. This is an aftermarket replacement part.
Please compare its appearance, shape and size with your original unit and make sure that it can fit your machine before ordering. Actually depends on postal process. We are not responsible for any wrong or undeliverable addresses.
We choose high quality materials for our products, each of which has to be checked many times. Our mission is to provide fitness people with the most fashionable, useful and safe sports equipment, customer-oriented. This item is in the category "Business & Industrial\Heavy Equipment, Parts & Attachments\Heavy Equipment Attachments\Other Heavy Equipment Attachments". The seller is "equipment-manager" and is located in this country: US. This item can be shipped to United States.
Brand: Unbranded
Type: key
Compatible Equipment Type: Backhoe Loader, Boom Lift, Crawler Dozer, Crawler Loader, Crusher, Excavator, Forklift, Scissor Lift, Skidder, Skid Steer Loader, Tractor, Underground Mining Vehicle, Vertical Mast Lift, Wheel Loader
Model: Caterpillar
Compatible Equipment Make: Bobcat, BOMAG, Case, CAT, Daewoo, Demag, Doosan, Fiat, Ford, Genie, Hitachi, Hyster, Hyundai, IHI, JCB, JLG, John Deere, Kobelco, Komatsu, Kubota, Sumitomo, TCM, Volvo, Yanmar
MPN: 5P8500 8398 8H5306 312 NG100 14685 D250
MPN 3: T209428CT3152820-00003-09745118433,677515A,72090051V,VPF3225
MPN 2: T0207-8184014607PC200-7 PC200-832412,H32412,35260-31852

---